Hello Stampin' Friends ~
Sale-A-Bration is one of our biggest promotions of the year. It's overflowing with opportunities for you and filled with fun for everyone! During Sale-A-Bration, you can earn free, exclusive products for every $50 and $100 spent. And, you can enjoy unique, unbeatable benefits when they host a party or join the Stampin' Up! family!
Hosting During Sale-A-Bration
Hosting is even more rewarding during Sale-A-Bration season. When you host a party and reach a certain amount in sales (see the chart on the host page in the July–December 2021 Mini Catalog for more information), you can earn the In Your Words Stamp Set (item 156619) for free!
Joining During Sale-A-Bration
If you decide to sign up as a Stampin' Up! demonstrator during Sale-A-Bration, you'll get to pick a qualifying bundle from the July–December 2021 Mini Catalog to add to your Starter Kit—for free! There couldn't be a better time to join the Stampin' Up! family and my team!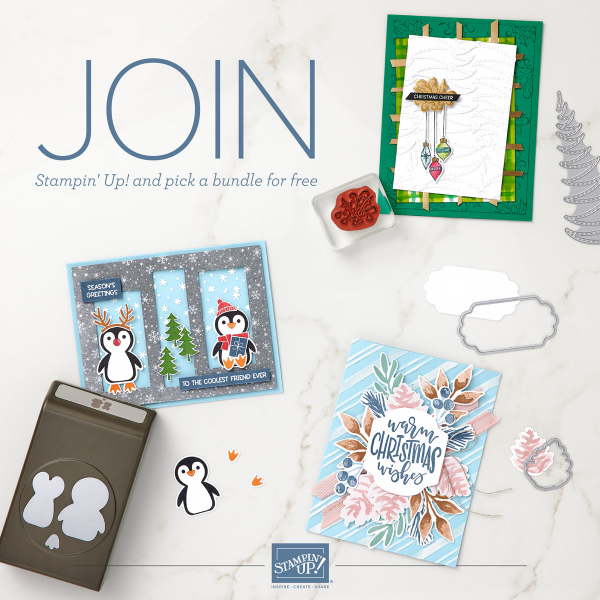 We all love Sale-a-Bration because we can get bonus rewards when we shop!
I have to let you in on a secret, the best deal you can get is the Starter Kit. It's a great value and completely customizable. During Sale-a-Bration you also get a bonus bundle from the July-December Mini Catalog!
Check out the options here
.
But, that's still not what makes the Starter Kit the best deal. The true value comes in the amazing opportunities and community of demonstrators that you become a part of. It's been the most amazing journey that I never expected to take.
Most demonstrators join because they love the products and want a discount. Who doesn't love a discount? Most demonstrators I know, say they stay because they love being a part of this great community.
There is a place for you whether you like to create, want to gather with a few friends and share what you know, or if you want to create a growing business. I hope you'll consider joining my team and see where it can take you!
Contact me with questions or find out more here.
Have a beautiful day ~
Stampin' Hugs, Linda
CHOOSE YOUR BUNDLE!
Choose $125 in Stampin' Up! products for only $99!
If you don't think demonstrating is for you, joining to get the discount on your personal purchases is a great benefit, too. You can enjoy a discount of 20% or more on all future orders.
AMAZING VALUE!
So let's recap – For only $99:
Choose up to
$125
of any Stampin' Up! products of your choice for your kit. Choose from current catalog items, bundles, and Clearance Rack.
Free Shipping!
The starter kit ships FREE for another
10% savings
.
No risk!
You'll have through the end of your first full quarter to "test drive" demonstrator discounts and benefits.
No penalty!
If you reach $300 in sales by the end of your first full quarter, you automatically remain active for another quarter. If you don't reach $300 in sales, you can "drop" with no penalty, and you keep everything from your Starter Kit.
No catch!
There's no obligation to hold workshops or parties, sell products to others or personally purchase anything beyond the kit.
Whether you join to share creativity, hold workshops and earn money, or get a great discount on your personal orders, we have options. All while doing what you love to do – stamp and share!
More Details on My Website
I am here to help you … whether you gather your friends for a stamping party and we all enjoy a night out, or your join me and my team and discover the amazing benefits that Stampin' Up! offers … there are some FUN events coming just for demonstrators too! No obligation, lets just talk.
Thank you for hanging out with me for a bit today. Stop back tomorrow … I've got something special for you all!
Have a wonderful weekend ~